News
Mumbai:
The series 'Where Mommy Does' is one of the most popular series on the small screen. The heroine of the series Arundhati has now started her life anew. But the crisis before her is not over. Arundhati is facing these crises with great courage.
So far, Sanjana has turned a deaf ear to Arundhati in the series 'Where does mother do what?' So Kanchan is looking at Arundhati in the water. Along with Arundhati, Kanchan is also constantly talking to her accompanying father. But Kanchan loses his temper and insults Appa in front of everyone. She speaks to her father as she pleases. This insult done by his wife became a good thing for Appa. So now after Arundhati, now Appa too has left Samrudhi's bungalow and gone to stay at Arundhati's house. Sanjana is very upset as this happened when Aniruddha was not there. She hits Arundhati's house directly with Kanchan to bring her back.
'If Paithani is stolen …', the controversy took place even before the Maha Minister program started

But Dad clearly tells them that I will not return home. On the other hand, Aniruddha, who went to Delhi for work, has returned home. Since mother, Sanjana and Dad are not seen in the house, he asks everyone where he has gone. But no one tells him anything clearly. It makes him hugely irritated and angry.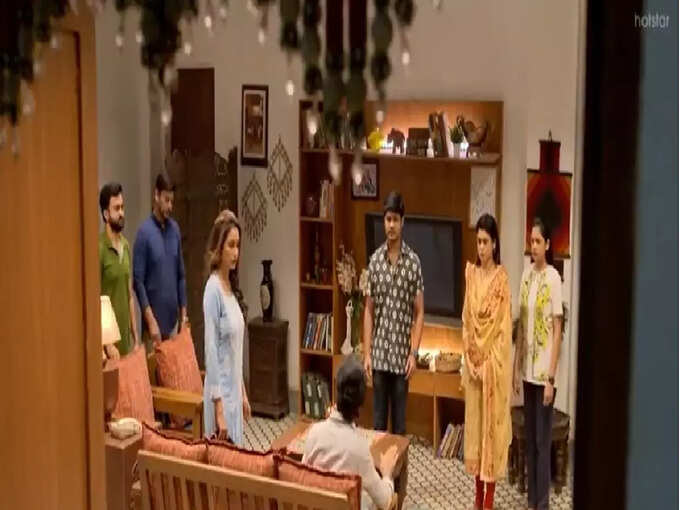 The promo for the upcoming episode of the series has been released. It looks like there will be another interesting twist in the series. In the promo, it is shown that Aniruddha knows the truth about Appa's departure. He then gets very angry and says to everyone in the house, including Sanjana, 'No matter what I do in the house, no matter how many changes I make in the house, this house belongs only to my father. You all remember. He is my father and I love him very much … 'Hearing this, Sanjana's face became pale.
What exactly is Bhangad? The audience was confused by the new look of Bajya

On the other hand, Kanchan and Arundhati are seen sitting in the garden. Kanchan is seen clasping his hands in front of Arundhati, crying and pleading with her. Kanchan says to Arundhati, 'I join hands in front of you. Bring them to his house. ' Arundhati is shocked to see Kanchan being beaten so badly. She promises Kanchan that she will bring him back home. Hearing this, Kanchan does not stop crying and she starts crying with her head on Arundhati's shoulder.
What will happen next in this series where mother does what now? Will Dad go to Samrudhi Bungalow again? Does Aniruddha know that Sanjana's head is behind all this? The audience is curious to know this. Currently, this new promo is going viral on social media.
.