Migmg news
Written by Gabriel Lee
"Time decides": It could almost be Greenland's motto. Visitors drawn to this North Atlantic island to see its powder-blue glaciers, iceberg-clogged fjords and stark landscapes quickly learn to respect the elements, and are sometimes rewarded for it.
One cold December day, I was waiting for a delayed flight at Kangerlussuaq, a former US military base just above the Arctic Circle, when a friendly Air Greenland pilot named Stahl asked me if I'd like to join him for a ride to the port in "Collect some ox heads from musk." The offer seemed very Greenlandic, so how could I refuse?
It was already getting dark in the early afternoon. We got into a pickup truck and started down a long, icy road. At the water's edge, Stahl picked up a musk ox skull – they are kept as trophies, and the horns can be valuable for carving and making tools. Then we drove on a snow covered mountain. The full moon illuminated the fjord below. Next to him, the city looked like a moon base: a small pocket of human activity nestled in a seemingly infinite void.
I had arrived in Kangerlussuaq earlier that day on Air Greenland's first brand new aircraft, an A330neo fresh from the Airbus factory in Toulouse, France. Kangerlussuaq Airport is one of the few in Greenland with runways long enough to accommodate large aircraft. From there, travelers must transfer to smaller turboprops to continue onward, including to the capital of Nuuk—where I eventually headed—or Ilulissat, a city whose icy fjord is a UNESCO World Heritage Site. When the Airbus plane, carrying the Prime Minister of Greenland, landed, we were greeted by hundreds of people waving red and white Greenlandic flags.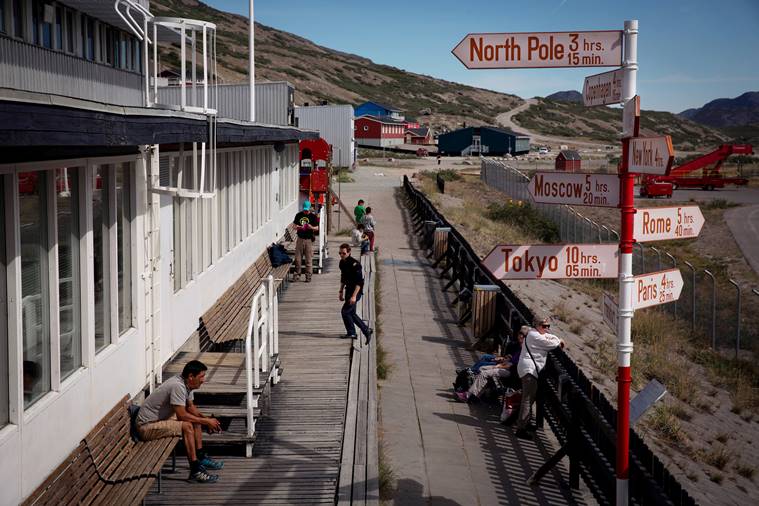 The airport in Kangerlussuaq, Greenland, a former military base where most flights to the country still land, July 16, 2015. The Arctic island, known for its glaciers and fjords, is expanding airports and hotels to boost its economy, even as it tries to avoid the pitfalls of over-tourism. (Josh Hanner/The New York Times)
The new plane is part of a plan to revive the island's tourism industry. Greenland, which is part of Denmark but has autonomy over most domestic affairs, is investing hundreds of millions of dollars in transport, building new runways and terminals in Nuuk and Ilulissat. If all goes according to the government's plan, large jets could bring international visitors directly to these cities by 2024.
35-year-old Prime Minister Mute B. Egede, who supports eventual independence from Denmark, sees tourism as a way to build economic self-sufficiency. The government banned all oil exploration and was cautious about expanding mining despite the potential for profit: it blocked the development of one rare earth mining project over fears of uranium contamination.
"We need to have more growth," Egede told me before the flight took off. "Currently most of our money comes from fishing. We need some other income opportunities, and tourism is one of the key potentials for Greenland's future growth."
Tourists are rare, for now
Greenland, the world's largest island, is roughly three times the size of Texas, but has only about 57,000 residents. In the first three quarters of 2022, it attracted just under 55,000 visitors, according to Visit Greenland, the national tourism authority, and nearly 37,000 of those came from Denmark. Only 2,430 Americans visited Greenland during that period.
Direct flights from the US could mean a big influx.
Air Greenland CEO Jacob Netter Sorensen told me last year that the airline has North America in its sights, with New York as a top destination. That would put Nuuk just a four-hour hop from the US East Coast, meaning the Americans would no longer need to retreat from Copenhagen. (Almost all flights to Greenland currently pass through the Danish capital.)
But a sudden influx of tourists could strain Greenland's limited infrastructure and challenge what makes the island special. Visitors come to experience its remoteness. Fly along the west coast and you'll pass countless fjords and glaciers filled only with birds and reindeer. You're more likely to spot humpback whales, narwhals, polar bears and musk oxen than a tour bus. Some locals worry about becoming the next Iceland, which has struggled to cope with hordes of tourists and soaring prices as the island's popularity has exploded over the past decade.
For now, those fears seem distant. Tourists are rare and the weather still makes the rules. When I finally got to Nuuk, I planned to go on a snowshoe trip in the mountains outside of town and take a boat to see the fjords. I also booked a special dinner of traditional Greenlandic cuisine – a menu that may have included foods such as reindeer, whale, musk ox and Arctic herbs and berries. But a lack of snow stopped the trip, high winds canceled the boat trip, and the dinner was canceled because there weren't enough other customers.
But at least one plan remained intact. I had booked a night in a "glass igloo" on the edge of town and was looking forward to the private hot tub and sauna – overlooking the nearby bay and mountains – on its deck.
With a panoramic view of the rugged landscape, it felt a bit like camping, but with a very efficient heating system.
Achieving a difficult balance
Tourism infrastructure on the island remains somewhat limited, but authorities hope to change that by the time new runways and terminals open next year.
"There is a lot of pressure to prepare more destinations when it comes to hotels, restaurants and experiences," said Anne Nivika Grodem, CEO of Visit Greenland. "And it must be based on our values, to ensure sustainable development."
Since air travel is a major contributor to global warming, a destination known for ice and snow will have to strike a difficult balance.
📣 For more lifestyle news, follow us Instagram | Twitter | Facebook and don't miss the latest updates!
.