News
Mumbai: After Eknath Shinde's displeasure, the political atmosphere in the state has heated up. Shiv Sena's rebel leader Eknath Shinde has put Shiv Sena in a quandary by proposing that Shiv Sena should leave the Mahavikas Alliance and form a new government by forming an alliance with BJP. Its repercussions were also felt on social media. Many actors from Cineworld have reacted to this.
Actor Sumit Raghavan has also commented on the role of Eknath Shinde in a tweet. Why did it take Shinde two and a half years to take this decision? Such a question has also been raised by Sumit.


'Don't go back now, I got it ..', the actor's advice after Eknath Shinde revolted


Seeing the political situation in the state, the actor also said- 'Take cell … cell … cell … MLA'
What is Sumit's tweet?
A simple question. When an ordinary Mumbaikar like me knew that what happened was not right (M.V.A.) then why should Eknath Saheb, a staunch Shiv Sainik like you, who has been trained by Balasaheb and especially Dighe Saheb, take two and a half years to decide? Sumeet has asked such a direct question to Eknath Shinde in his tweet.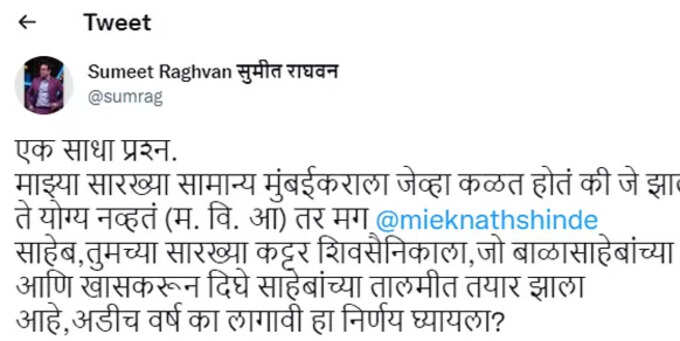 Aaroh Welankar's tweet is also under discussion
Eknath Shinde was not reachable for a long time on Tuesday. He then tweeted his role to Pusat. He had tweeted that, 'We are Balasaheb's staunch Shiv Sainiks … Balasaheb has taught us Hindutva .. We have never cheated and will never cheat for power regarding Balasaheb's thoughts and Dharmaveer Anand Dighe Saheb's teachings'. It was not immediately clear what role they played. Arohan had re-tweeted Eknath Shinde's tweet saying, 'Don't go back now, I got it'. Aaroh's tweet has received various comments on social media. Some have criticized Aroha and some netizens have backed him.
.