News
Mumbai-
The revolt of Eknath Shinde, a Shiv Sena loyalist and the party's second-in-command, who is also the minister for several important departments in the state government, including urban development, has triggered a major political upheaval in the state. Actor Kshitish Date's Instagram story starring Eknath Shinde on the big screen caught everyone's attention.

What's in Insta Story?
An unprecedented crisis has arisen in front of Shiv Sena as Eknath Shinde and pro-MLAs have taken up the cause of rebellion. Shinde has claimed that he has 40 MLAs with him. Therefore, Shiv Sena and Mahavikas Aghadi government is in crisis. The insta story of the actor who played the role of Eknath Shinde in the movie 'Dharmaveer' is also being discussed on the big screen. Kshitish shared a photo of a newspaper clipping and wrote, It is wrong to print like this. '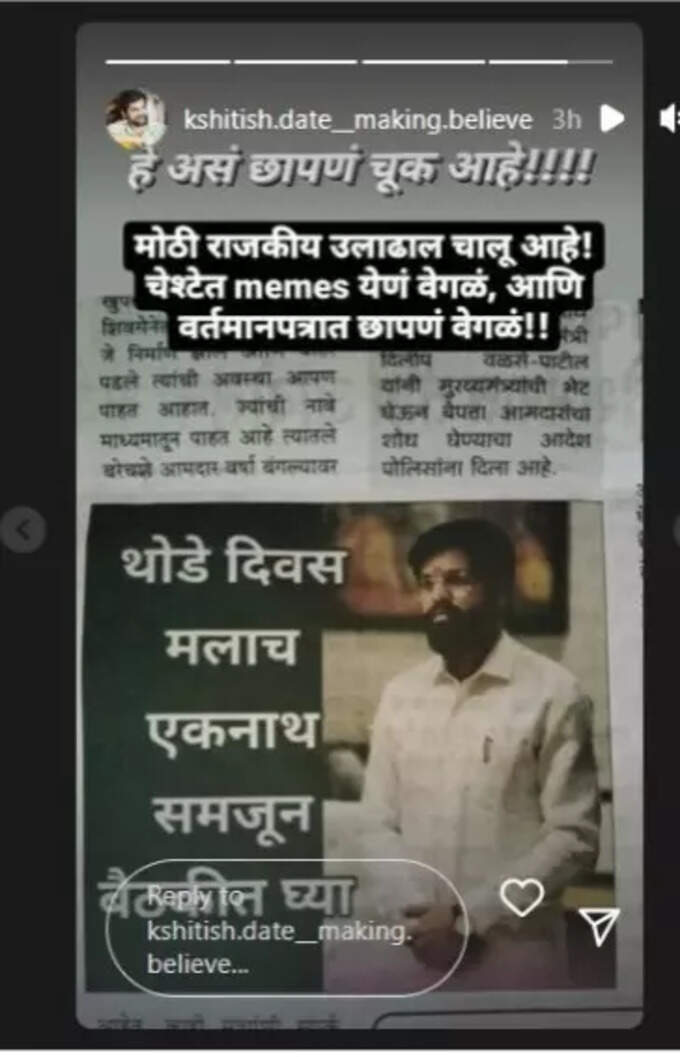 Who is Kshitish Date
Kshitish is an actor in Marathi cinema and he has shown his brilliance in many plays, web series and movies. He also had an important role in the recent movie Sarsenapati Hambirrao. However, due to the movie 'Dharmaveer', it came to a special light. Eknath Shinde's performance was appreciated on many levels.

Other artists also commented on the current situation
Meanwhile, other Marathi actors have also commented on this political drama going on in Maharashtra. Famous actor and director Hemant Dhome and actor Aroh Welankar have also expressed their views.
.