News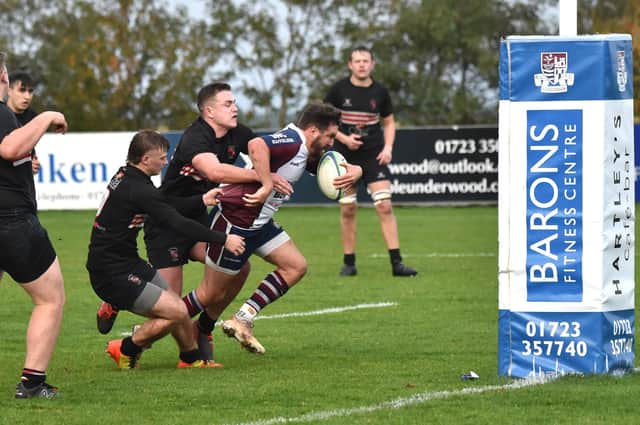 RUFC Scarborough's Tom Harrison scored his first attempt at a 23-20 win at Selby
The hosts, seated near the bottom of the Northeast Second District, came out of the flying blocks and immediately pressed against Matty Jones' side, Charlie Hooper writes.
Selby took a 3-0 lead in the second minute, after a harsh penalty kick gave Henry Wright a penalty spot. Teammate Tom Ratcliffe settled the match after 10 minutes with a penalty kick.
Scarborough took the lead in the 20th minute, with playing advantage, Tom Harrison collected the ball, saw a hole in the defense and crashed for 10-3.
Selby responded with an attempt in the 26th minute, with the winger firing a dangerous cross kick from Wright, racing on the wing before coming down to Harrison Green and past the second row 10-10.
Ratcliffe was called into action after the half-hour mark with another penalty kick to regain his team's advantage.
Scarborough wasted no time consolidating his lead in the second half.
Joe Davis approached before widespread interference was visible and Captain Drew Jovier scored. Harrison, who kicked in place of Ratcliffe, added the additions for 20-10.
Then both teams exchanged penalties 23-13 before Selby increased the pressure as the match approached the last ten minutes.
In the 75th minute, Will Renard got his first yellow card for dropping the knockout and the referee awarded the hosts a penalty kick attempt.
With overtime approaching, Sandhill Lane got a penalty and a corner kick opportunity. Wright stepped up but took his kick too long and the referee whistled to end the excellent rugby match.
With the lead now down to two points with leaders Mortown, Scarborough returns to Silver Road on Saturday as they welcome struggling Bradford and Bingley.