News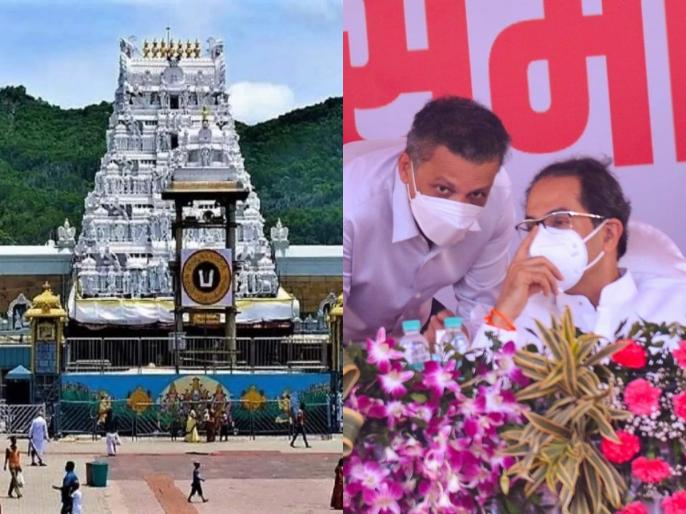 Mumbai: There is good news for the devotees of Tirupati Balaji. For those devotees who are unable to visit Balaji in Andhra Pradesh, a magnificent Tirupati Balaji Temple will be set up in Navi Mumbai. The temple will be built on a ten acre site at Ulwe, a short distance from the Navi Mumbai International Airport. For this, 10 acres of land has been approved by the Cabinet. Information in this regard was given from the official Twitter account of Shiv Sena. Meanwhile, Tirumala Tirupati Temple Trustee Milind Narvekar also tweeted thanking the Chief Minister, Deputy Chief Minister, Urban Development Minister and Tourism Minister Aditya Thackeray.
It was demanded from Tirupati Devasthan that the Government of Maharashtra should get land for construction of the temple. Taking a positive stance on this, CIDCO's board of directors approved the proposal and sent it to the state government for final approval, along with Urban Development Minister Eknath Shinde and Tourism Minister Aditya Thackeray. After that, after discussions with the Chief Minister, finally 10 acres of land has been allotted for each Tirupati Balaji Temple in Navi Mumbai. Meanwhile, Milind Narvekar from Maharashtra has been given the opportunity to be the trustee of Tirumala Tirupati Balaji Temple this year. Given this opportunity, the private secretary to the chief minister and the faithful Norvekar, it seems, has now taken the initiative to build the Tirumala Tirupati temple in Maharashtra.
– Shivsena Communication (hiShivsenaComms) April 20, 2022
The decision to allot land for the temple to Tirumala Tirupati Devasthanam was sealed at a meeting of CIDCO Board of Directors on the eve of Marathi New Year and Gudipadva (April 2). Tirupati Devasthan president Subba Reddy and minister Aditya Thackeray were present at the meeting. On February 27, 2022, Subba Reddy, president of Tirupati Tirumala Devasthanam, wrote a letter to Chief Minister Uddhav Thackeray for allotment of land. The Chief Minister had then directed CIDCO to find a suitable site for the temple near Navi Mumbai International Airport. After the land allotment was approved in principle, Subba Reddy was accompanied by Additional Chief Executive Officer Dharma Reddy, Trustee Milind Narvekar and CIDCO Managing Director Sanjay Mukherjee.
Chief Minister Uddhav Saheb Thackeray, Deputy Chief Minister for providing space for Tirupati Devasthan in today's cabinet meeting. JitAjitPawarSpeaks G, Minister of Environment, Tourism and Etiquette AUThackeray Yes, Urban Development Minister mieknathshinde Thank you very much.

– Milind Narvekar (NarvekarMilind_) April 20, 2022
Web Title: Uddhav Thackeray: Maharashtra govt Dedication of 10 acres of land for Tirumala Devasthan in Maharashtra, milind narvekar thanks cm uddhav thackeray
Get Latest Marathi News , Maharashtra News and Live Marathi News Headlines from Politics, Sports, Entertainment, Business and hyperlocal news from all cities of Maharashtra.
.