News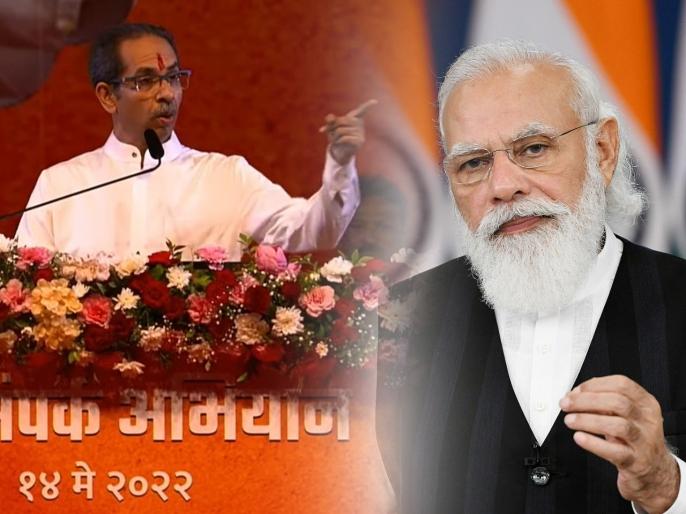 Mumbai: Consistent criticism from BJP leaders, the bhongya issue raised by Raj Thackeray and the issue of Hindutva. On the other hand, due to the constant criticism of the Shiv Sena by the Rana couple and the opposition, as announced by Chief Minister Uddhav Thackeray, they held a strong meeting at the BKC ground in Mumbai today. In this meeting, Tourism Minister Aditya Thackeray spoke on development works and informed about the work done by the state government. After that, Chief Minister Uddhav Thackeray fired at the opposition. The Modi government at the Center attacked due to inflation. He also took note of Modi's advice on petrol price hike.
Uddhav Thackeray targeted BJP on the issue of Hindutva. Devendra Fadnavis was harshly criticized. What do you think Hindutva is? We went with the Congress and it was revealed that we did not take the oath of office like you. Also, Prime Minister Narendra Modi had advised to reduce VAT on petrol in a meeting on Kovid. Even then, Modi slammed the central government.
Atal Bihari Vajpayee had gone to Parliament in a bullock cart in 1973 … only seven paise was increased. So where did this sensitive BJP go?

– Shiv Sena party chief, Chief Minister Uddhav Balasaheb Thackeray#UddhavThackeray#Shivsena 3

– Shivsena Communication (hiShivsenaComms) May 14, 2022
Inflation has skyrocketed in the country, you tell us petrol and don't pay our GST. On the other hand, the price of gas has gone up to Rs. You say you give free grain, but how to eat it, will you eat it raw? This question was asked by Uddhav Thackeray. Also, I was looking at Modi's meeting like an IPL match, because I didn't want to say anything. Also, "In 1973, Atal Bihari Vajpayee went to Parliament on a bullock cart. At that time, the rate was only seven paise. So where did this sensitive BJP go? Uddhav Thackeray also asked such a tough question to the Central Government and BJP on the issue of inflation.
BJP was called a donkey
Uddhav Thackeray targeted BJP on the issue of Hindutva. Devendra Fadnavis criticized us with Gadadhari Hindutva. Our Hindutva was a donkey, we have given up that donkey now. Uddhav Thackeray called on the BJP to be a donkey. At the May 1 meeting, Devendra Fadnavis said that Mumbai would be made independent. However, we did not get this Mumbai as a pleasure. Therefore, he strongly attacked the BJP, saying that those who are trying to break this Mumbai will not survive without being torn to pieces.
What is the need for renaming, it is Sambhajinagar
Referring to Owaisi's meeting in Aurangabad, BJP's ABC Teams are carried forward. Some are made to bow their heads on the grave, some are allowed to ring bells, some are given horns. Saying this in our Sambhajinagar, while mentioning Sambhajinagar, what is the need to change the name, that is Sambhajinagar, said Uddhav Thackeray. We did not leave Hindutva because we went with the Congress. If we go with the NCP, what about Tika and when you go? Saying this, Uddhav Thackeray attacked BJP on the morning swearing in ceremony.
Web Title: Uddhav Thackerey: … Then Vajpayee went to Parliament on a bullock cart, slammed Modi over petrol price hike
Get Latest Marathi News , Maharashtra News and Live Marathi News Headlines from Politics, Sports, Entertainment, Business and hyperlocal news from all cities of Maharashtra.
.